Home
JAN DAVIDOFF
"OPEN WATERS"
NOVEMBER 24, 2020 – FEBRUAR 5,  2022
Tuesday – Friday  12am – 5pm
Saturday                  12am – 3pm
 …… ……
…… ……
…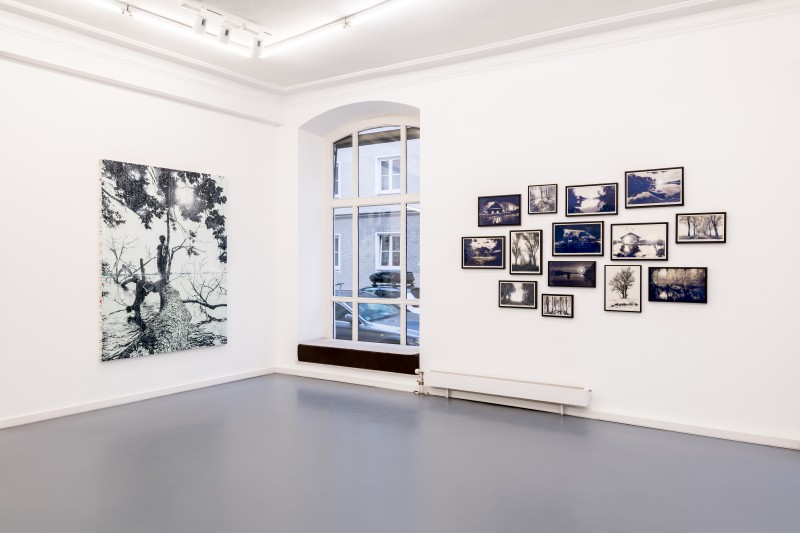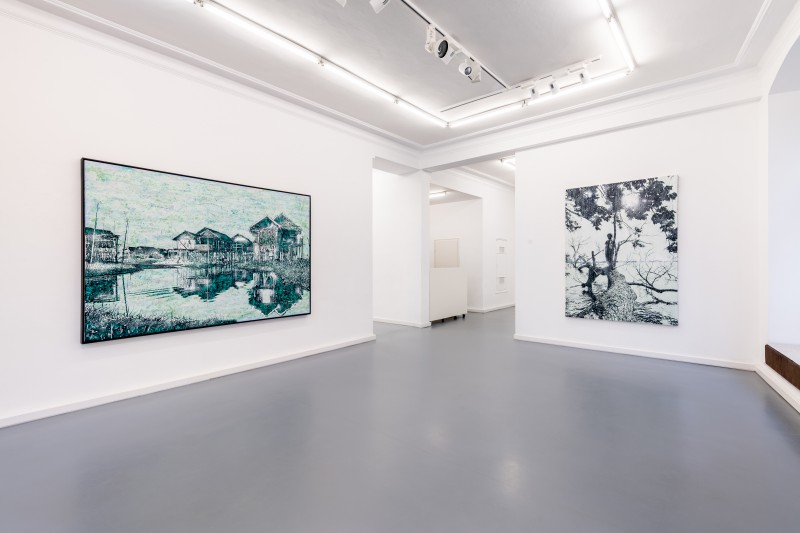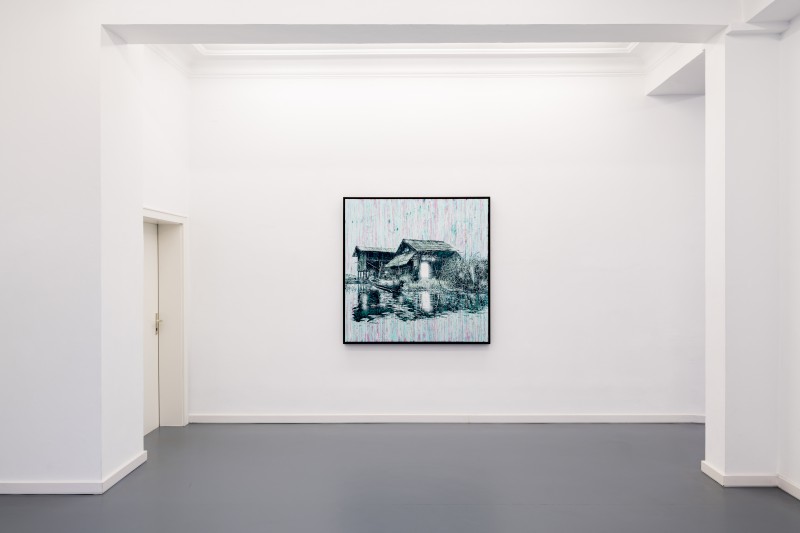 JAN DAVIDOFF @ GALERIE ANDREAS BINDER MUNICH              copyright: Kilian Blees
PRESSEMITTEILUNG
JAN DAVIDOFF
Open Waters
Eröffnung: Mittwoch, den 24. November 2021
Dauer der Ausstellung: 24. November 2021 – 05. Februar 2022
Unter dem Titel Open Waters zeigt die Galerie Andreas Binder bereits zum vierten Mal Arbeiten des Künstlers Jan Davidoff.
Auch 2021 finden wir in Davidoffs Werken das für ihn charakteristische Bildthema – die Auseinandersetzung mit der Natur als Essenz alles Vergangenen und  Zukünftigen – wieder. Mal eingefangen im Mikrokosmos des Stilllebens, mal wiedergegeben in der Unendlichkeit der Landschaft: stets verbirgt sich hinter der vermeintlich reduzierten Motivwahl etwas Tieferes. 
Und so werden in der Ausstellung die "offenen Gewässer" zum Spiegelbild der pandemiebedingten Einschränkungen. Das zentrale Bildmotiv des Ammersees dient hier als Symbol für die Sehnsucht nach Ferne und Weite. Wie ein Künstler der Romantik wandelt Davidoff durch seine unmittelbare Umgebung, findet im Bekannten etwas Traumhaftes und Mystisches, sucht dort das Fremde und die Einsamkeit. 
Auch das immer wiederkehrende Motiv des Hauses wird in diesem Spannungsverhältnis beleuchtet: als Zeichen für menschliches Leben, als Hauptkulisse des Alltags in den vergangenen eineinhalb Jahren, haftet ihm in Davidoffs Werken etwas Geheimnisvolles, zuweilen Unheimliches an. Die Unsicherheit darüber, was sich hinter der Tür verbirgt oder was hinter dem Fenster geschieht, vermittelt das kollektive Gefühl einer Zeit, in der das Ungewisse fester Bestandteil des alltäglichen Lebens geworden ist. 
Dabei bleibt Davidoff seinem Stil und seiner künstlerischen Vorgehensweise, bei der er Fotografien als Vorlage großformatiger Leinwandarbeiten nutzt, treu. Obgleich die Farbauswahl immer reduzierter wird, so gewinnt das Zusammenspiel von Hintergrund- und Motivwahl zunehmend an Bedeutung. Während die Leinwand selbst durch den Auftrag verschiedenster Material- und Farbschichten – u.a. Marmormehl, pure Farbpigmente, gemahlenes Glas, Glimmer und Kunstharz – Materialität und Vielschichtigkeit suggeriert, entsteht die eigentliche Tiefe der Arbeiten erst durch den Übertrag des figürlichen, nahezu holzschnittartigen Motivs auf die Oberfläche und den so entstehenden Bruch. Durch Brandspuren eines Lasers werden beispielsweise die Motive bei einer seiner neuen Techniken auf Karton übertragen und anschließend mit Kunstharz überzogen. 
Die Verschmelzung von Figuration und Abstraktion spiegelt dabei den nur vermeintlichen Gegensatz von Hier und Dort wider und macht einmal mehr deutlich, dass das Leben nur im Jetzt gelebt werden kann. Auch wenn Davidoffs Werken die Sehnsucht nach dem Anderen innewohnt, so steckt in ihnen doch die Kraft des Moments, der unabhängig ist von Zeit und Ort. Die Darstellung von kargen Baumlandschaften oder dem menschenleeren See ist daher keineswegs als Illustration apokalyptischer Szenarien zu verstehen. Vielmehr verkörpern die Werke im Spiel mit Licht und Schatten das Potential jeder Person, jeder Zeit und jeden Ortes  – im immerwährenden Fluss des Lebens – zu scheinen. 
Jan Davidoff (* 1976 in Norden) schloss 2009 sein Studium der Malerei bei Prof. Günther Förg an der Akademie der Bildenden Künste in München ab. Studienreisen führten ihn anschließend nach China, Indien, Südostasien und Amerika. Seine Werke wurde in zahlreichen nationalen wie internationalen Ausstellungen (u.a. TS Art Projects Berlin, Museum Villa Stuck München) präsentiert. Neben verschiedenen Kunstpreisen (2014 Art Award Kreis Offenbach), arbeitete Davidoff zuletzt im Rahmen eines Atelierstipendiums der ESKFF Eileen Kaminsky Foundation in New York.
Heute lebt und arbeitet Jan Davidoff in München und in Schondorf am Ammersee.
PRESS RELEASE
JAN DAVIDOFF
Open Waters
Opening: Wednesday, November 24, 2021
Duration of the exhibition: November 24, 2021 – February 05, 2022
Under the title Open Waters, the Andreas Binder gallery is showing works by the artist Jan Davidoff for the fourth time now.
Also in 2021 we find his characteristic pictorial theme in Davidoff's works – the examination of nature as the essence of everything past and future. Sometimes captured in the microcosm of a still life, sometimes reproduced in the infinity of the landscape: there is always something deeper hidden behind the supposedly reduced choice of motifs.
And so the "open waters" in the exhibition are a reflection of the pandemic-related restrictions. The central motif of the Ammersee serves as a symbol for the longing for distance and vastness. Like a romantic artist, Davidoff strolls through his immediate surroundings and while finding something dreamlike and mystical in the familiar, he is at the same time looking for the strange and loneliness.
The recurring motif of the house is also looked at closer in this tension: as a symbol of human life as the main backdrop of everyday life over the past one and half years, there is something mysterious, at times eerie, about Davidoff's work. The uncertainty about what is hidden behind the door or what is going on behind the window conveys the collective feeling of a time when the unknown has become an integral part of everyday life.
Davidoff remains true to his style and his artistic approach in which he uses photographs as a template for large-format canvas works. Although the choice of colors is decreased, the interplay between the choice of background and motif is becoming increasingly important. While the canvas itself suggests materiality and complexity through the application of various layers of material and color – including marble powder, pure color pigments, ground glass, mica and synthetic resin – the actual depth of the work only arises through the transfer of the figurative, almost woodcut-like motif onto the surface and the resulting crack. In one of Davidoff's newer techniques the motifs are transferred to cardboard through traces of fire from a laser, for example,  and then coated with synthetic resin.
The merging of figuration and abstraction reflects the only supposed contrast between the here and there and once again makes clear that life can only be lived in the now. Even if the longing for the other is inherent in Davidoff's works, they still have the power of the moment which is independent from time and place. The depiction of barren tree landscapes or the deserted lake is therefore by no means to be understood as an illustration of apocalyptic scenarios. Rather, by playing with light and shadow, the works embody the potential of every person, every time and place – to shine in the everlasting flow of life.
Jan Davidoff (* 1976 in Norden) completed his painting studies with Prof. Günther Förg at the Academy of Fine Arts in Munich in 2009.  Study trips then took him to China, India, Southeast Asia, and America. His works have been presented in numerous national and international exhibitions (including TS Art Projects Berlin, Museum Villa Stuck Munich). In addition to various art prizes (2014 Art Award Kreis Offenbach), Davidoff most recently worked on a studio grant from the ESKFF Eileen Kaminsky Foundation in New York.
Today Jan Davidoff lives and works in Munich and Schondorf am Ammersee.
GALERIE ANDREAS BINDER
Knöbelstrasse 27
D-80538 München
T +49 (0) 89 21 93 92 50
F +49 (0) 89 21 93 92 52
Opening hours:
Tuesday – Friday  12am – 5pm
Saturday                12am – 3pm
——————————————————————————-
AKTUELL:  
KOOB EXPERIENCE FLORENCE

CURATED BY

GALLERY ART&SPACE FLORENCE

SOLOSHOW JAN DAVIDOFF
15.7.21- 15.12.2021
via Borgo Ognissanti 24r, 50123 Firenze
Tuesday – Sunday  16pm – 23pm
---
https://www.sueddeutsche.de/muenchen/gastbeitrag-jan-davidoff-kultur-corona-krise-1.5173148
Jan Davidoff @ Atelierstipendium Atelier Rose Schondorf am Ammersee bis Ende Juli 2020